Refrigerator
Samsung 604 Ltr Inverter Frost Free Side By Side Refrigerator (RS55K52A01J/TL,Shiny River Glass)
Samsung 604 Ltr Inverter Frost Free Side By Side Refrigerator (RS55K52A01J/TL,Shiny River Glass)
MRP: ₹200000You save: ₹30,000 (15.00%)

Premium design for the modern kitchen
With the new RS554, it's what you don't see that helps bring refined beauty into your home. Recessed handles and hidden hinges provide a touch of elegant minimalism that complements any modern decor. There's still plenty for the eye to admire, from the sophisticated pattern design (available in Shiny River White or EZ Clean Steel) to the blue LED display.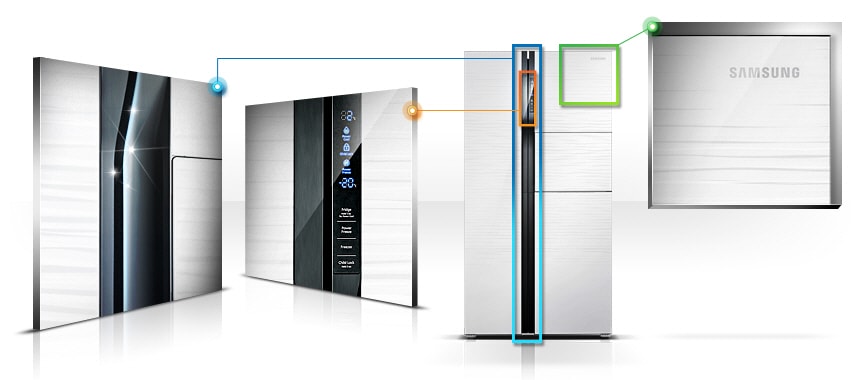 Twin Cooling System™ gives you the best of both worlds
The RS554 uses two separate air flows and precise temperature control to maintain optimal humidity levels on both the refrigerator and freezer sides. This Twin Cooling System™ helps keep your apples fresh, prevents your ice cream from getting freezer burn, and stops ice cubes from smelling like the garlic bread you've stored in the refrigerator.
Preserves your food longer, keeps your electric bills lower
The innovative Digital Inverter Compressor saves energy. Nine sensors track variables such as internal and external temperature and humidity levels, along with your usage patterns. This enables the Digital Inverter Compressor to optimize settings for consistent cooling without having to constantly stop and restart. As a result, it uses 24% less energy than conventional compressors.
Multi Flow
Multi Flow works on every level—with small vents over each shelf—to maintain an even temperature throughout the refrigerator, especially after you open the door. By cooling every section of every compartment at the same time, it helps your foods stay fresher longer.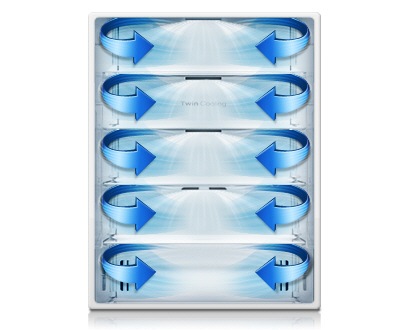 Bring frost-free freshness into your kitchen
You no longer have to empty out the fridge or freezer during a routine defrosting, because there is no more routine defrosting. Samsung's No Frost feature ensures even cooling to eliminate frost and icy build-ups. Now you can keep all your perishables fresh and nutritious, and have more time for other chores or fun activities. What's more, by maintaining an even temperature, No Frost puts less demands on energy needs, which increases the durability of the cooling system.
A brighter way to save energy
The stylish Tower LED lighting bathes the interior with light that beautifully presents all your groceries. Items are easier to find, so you'll spend less time with the door open looking for an elusive snack hidden in the far corners of your fridge or freezer. The space-saving design of the lighting opens up more room for food. It also emits no heat and uses less energy than conventional bulbs, both of which help to lower your energy bill.
EZ Organization
Bring effortless organization to your freezer. Three tiers of big boxes help you store everything from frozen appetizers to frozen desserts. Because the boxes are transparent, you don't have to slide them out to see what's inside. And they're conveniently removable should you need vertical space for taller items.
Big Box
Bigger vegetable drawers with humidity control provide extra storage space.
General
| | |
| --- | --- |
| Brand | Samsung |
| Capacity | 604 Ltr |
| Refrigerator Style | Side by Side |
Product information
| | |
| --- | --- |
| Capacity | 604 Liters |
| Refrigerator Fresh Food Capacity | 338 Liters |
| Freezer Capacity | 198 Liters |
| Installation Type | Free-Standing |
| Form Factor | Side-by-Side |
| Included Components | 1 Unit Refrigerator, 1 Warranty Card, 1 Manual |
| Colour | Shiny River Glass |